Tamara
"Thank you PinkCupid!"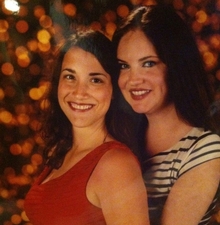 When I was least expecting it and wasn't fully looking for a girlfriend, Danielle found me. We started with the intellectual chats, the discussions of past relationships, our career paths, etc.
Then one night, I decided to ask if she wanted to talk on the phone, and I heard her adorable voice for the first time, we spoke for 4 hours, then spoke every day after, booked 2 trips to see each other in the matter of 10 days.
This is coming from a girl that never really moved that fast with the ladies, I was pretty stand offish due to being hurt by another and was waiting for that one and only. Danielle flew out to visit me states away for the first time and it was an instant connection. In a matter of 4 months, she moved across country to be with me and we moved into our new place and things are strong and passionate and we compliment one another very well, I am happy and content with this wonderful relationship that has grown into a great future, I feel it.
Tamara
Kate
"Thank you PinkCupid!"
I met the girl of my dreams here on pink Cupid! I know she'd say the same about me. We plan to get married in a few months and she has completely changed my life, I couldn't have found her without this site! I have a 3 year old son and she has stepped right in as mommie two and hasn't skipped a beat! We've both felt instant connection since the first day we talked. Good luck to all of you on your love journey and don't give up!
L
"Thank you PinkCupid!"
I found the love of my life, my soul mate in Dec. We are getting married June 21-13. Thank you, thank you, thank you!