Mayte
"Thank you PinkCupid!"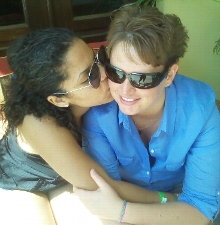 I found my soulmate in Pinkcupid she is my life and my reason to exist!
Rebecca
"I can't believe how lucky I am"
Never having been a skeptic when it came to using a dating website, I had no qualms about joining PinkCupid when I saw an advertisement on the net. However, after a few months with no success, even I had begun to give up hope of finding that special someone. So, little did I expect something as simple as an IM request to turn my whole world upside down when I signed on a couple of months ago. As soon as I saw Stephanie, I realized that she was the one I had been looking for, and talking to her made me feel properly happy for the first time in years. Apparently I wasn't alone in my thoughts, as five weeks later, she booked the long flight from the USA to the UK. Meeting her for the first time only confirmed what I had felt in that first moment, and I knew she was the girl I was meant to be with forever. Luckily for me, she feels the same, and plans to move here in December. We are also getting married early next year. I can't believe how lucky I am to have found my soul mate, and for that, I have PinkCupid to thank!
Amanda
"The woman that I found is beyond my soul mate"
I must say when I initially registered with Pink Cupid I never thought I would actually find someone. I was bored and looking for something to do. The woman that I found is beyond my soul mate; she is my air. She has taught me patience, forgiveness, devotion, and most importantly love. We met on this site about 8 months ago and have been together for the past 5 months. She is from Europe and I live in the states. She is actually here with me now, and we are engaged to be married. You never know where life is going to take you...this site took me to love and I am eternally grateful.
Cassie
"Thank you PinkCupid"
After almost a year of searching I met someone what fits the mold in what I am looking for in a partner. Thank you PinkCupid
Dawn & Aurica
"Now we are married, all thanks to PinkCupid"
Met Aurica 2009 from PinkCupid, we met a few times and really hit it off, and now we are married, all thanks to PinkCupid.